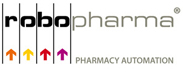 Havenweg 14, 5145 NJ Waalwijk
info@robopharma.com
| +31(0)416 65 11 85
Pharmacy automation

During the past few years, dispensing automation has come to play an important role in both hospital and community pharmacies, as well as central filling pharmacies and wholesalers.

Pharmacy automation offers significant advantages to dispensing outlets; not only are there the immediate benefits of improved efficiency, improved productivity, more accurate dispensing, but also the secondary benefit of improved customer service.

Feedback from our existing customers indicates improvements in efficiency of more than 25%, ensuring that initial investment can be recouped in less than 2 years. Customers have also noted a dramatic improvement in working conditions throughout the pharmacy and appreciated the opportunity to spend more time with their customers.
Fast
A RoboPharma dispenser can dispense up to 180 products per minute. So you can expect to supply a complete prescription within 10 to 5 seconds, to any location in your pharmacy.
If you wish, complete prescriptions can be delivered direct to your staff at the sales counter, allowing them to spend more time with your customers. Less waiting timefor your consumers, greater efficiency for you even in busy periods.
Reliable
The last thing is for things to go wrong - which is why we've made reliability a priority.
To date pharmacies equipped with RoboPharma automation have experienced, on average,only 2 hours of downtime a year as a result of machine faults. Proving our systems to be 99,9% reliable.
And should problems arise which are outside our control, such as power failures, RoboPharma equipment still enables you to access your stock and complete prescriptions manually.
Compact
Storage space can often be an issue in a dispensing environment; thanks to our flexibile,modular assembly options, RoboPharma automation can be adjusted to slot into your available space.
Simple
Thanks to the innovative modular setup, RoboPharma automation has the flexibility to expand, whenever you want to increase your storing capacity.

Downloads


TCM folder


RoboWard leaflet


RoboWall folder


RoboLabel folder


RP30 High Density Dispenser leaflet


RoboCube leaflet